| | |
| --- | --- |
| | Manual |
---
SOMO - PDB Visualization Options module: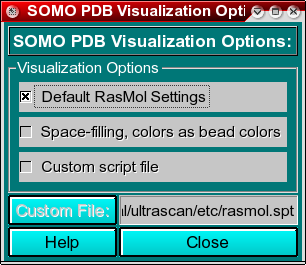 In this module, you can set some options affecting how the original structure is visualized by the embedded RasMol molecular visualization software. This module is currently (October 2013) still under construction, allowing only the Default RasMol Settings to be employed.
Default RasMol settings. The structure is visualized in wireframe mode, using the CPK color scheme on a black background.
Space-filling, colors as bead colors. This utility will extract the color coding for the beads used in the currently loaded (somo).residue file to assign identical colors to each residue in the original structure, using the space-filling visualization mode. This will allow a more direct comparison between the original structure and its bead model.
Custom script file. This will execute a RasMol script file loaded from the Custom file field.
---
www contact: Emre Brookes

This document is part of the UltraScan Software Documentation distribution.
Copyright © notice.

The latest version of this document can always be found at:

Last modified on October 10, 2013.